TIMESJATIM, MALANG – The creation of exclusive Chinese New Year (Imlek) menu at Melati Restaurant at Hotel Tugu Malang can be the perfect choice to celebrate Chinese New Year with your family. This restaurant will be serving the savory, sweet fried Nian Gao (Kue Keranjang) and the scrumptious Salmon Prosperity Toss Yusheng that are only served during the celebration of Chinese New Year, (18/1/2020).
The guests may request the "Nian Gao" to be steamed or fried. Of course, the different cooking method will result in different taste. It is recommended to have it steamed as Nian Gao has a soft texture and sweet flavor.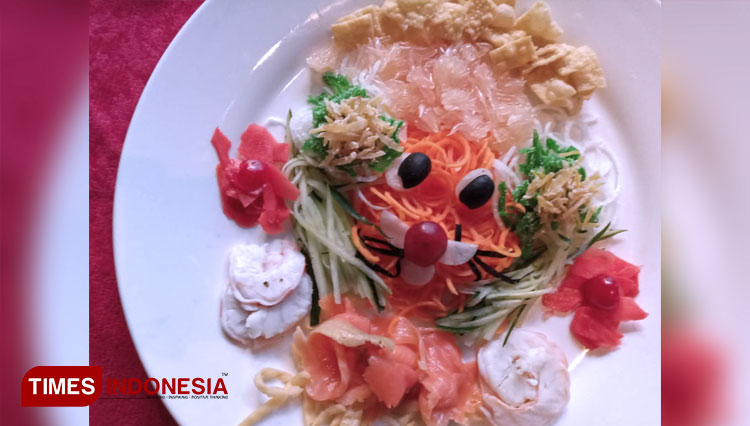 However, fried Nian Gao can also give you an exceptional new flavor.
Meanwhile, Salmon Prosperity Toss Yusheng is a dish arranged according to the Chinese zodiac in this year, which is the year of the Mouse.
With the cute round eyes and the combination of bright-colored ingredients, this menu really represents the joyful Chinese New Year. According to the Chinese culture, this menu is the symbol of prosperity and abundance for those who eat it.
The ambience in Melati Restaurant at Hotel Tugu Malang is cozy, dominated by the beautiful red color that will make a warmer atmosphere for the guests and their families.
Hotel Tugu Malang also launches an exclusive stay package to celebrate the Chinese New Year. This package is called as Auspicious Lunar Year, which includes unforgettable staying experience and the luxurious breakfast.
Moreover, there is an exclusive Chinese New Year menu in this package, Siam-influenced New Year High Tea for two persons with the scrumptious selection of Thai and Vietnamese snacks. Besides, this package also includes the welcome massage for two persons and a basket full of fresh tropical fruits provided in the room. (*)
Baca Berita Peristiwa dan Politik terbaru di Indonesia dan luar negeri lainnya hanya di TIMES Indonesia.