TIMESJATIM, DENPASAR – As a villa that offers an exclusive vacation place, The Sanctoo Villas and Spa and Bali Zoo become popular with celebrities.
The villa located in the center of the village and field, in Singapadu Village, Sukawati, Gianyar, provides a very private and luxurious atmosphere. There has been many celebrities staying in The Sanctoo Villas and Spa, such as Raditya Dika, Bebi Romeo, Donny from Ada Band, Tria from The Changcuters, Luise Anastasya, and the list goes on.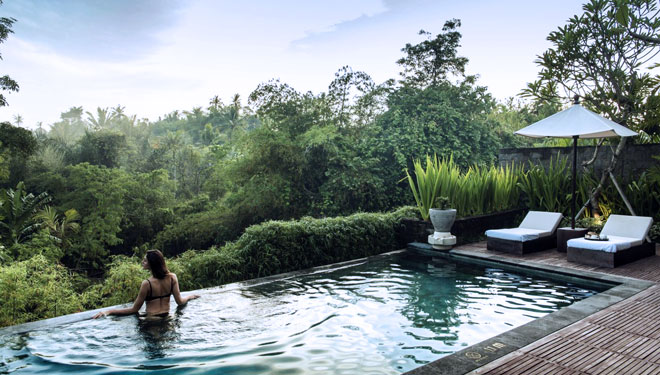 The Sanctoo Villas & Spa is located in a quiet area. Behind it is a hill with Gunung Sari temple atop of it.
This villa also has a very iconic photo spot, such as a bridge that is often used as pre-wedding photo session spot, small stream, and natural waterfall.
Moreover, this villa has got an award from TripAdvisor, such as Bali Tourism Award (Bali Leading Family Resort). This villa is located in the area of Bali Zoo. Bali Zoo is not just an ordinary zoo, but a sanctuary. This zoo is a perfect place for families residing in Singapadu. Anak Agung Gede Putra is the owner of both Bali Zoo and The Sanctoo Villas and Spa.
The Resort Manager of The Sanctoo Villas & Spa, I Putu Subali Adi Putra, said that The Sanctoo Villa consists of 12 villa units divided into two types, which are Garden Pool Villa and River Pool Villa. Each Villa has an area of 300 meter square and has 4 x 7.5 m private swimming pool.
"The celebrities usually stay in River Pool Villa as it has a wider view, and beautiful stream view," said Subali.
According to Subali, his team does not only offer the natural, private atmosphere, but also shows the true identity of Bali, by introducing the custom and tradition of Bali, back-to-nature spa and restaurant to the guests. The guests staying in The Sanctoo Villas & Spa can get free entrance ticket to Bali Zoo.
"The room price has included the free ticket to explore Bali Zoo," he added.
You do not need to go far to reach Bali Zoo as it is very near to The Sanctoo Villas and Spa. This can be a good tourism attraction as The Sanctoo Villas & Spa is the part of Bali Zoo, and vice versa. Therefore, the guests do not need to find any transportation to go to Bali Zoo.
"Most of our guests do not need to go outside to find entertainment as they have been pampered by our satisfying service in The Sanctoo Villas & Spa," he said.
Subali said that the most favorite tourism attraction in Bali Zoo and The Sanctoo Villas & Spa is Elephant Mud Fun. This program aims to raise the society awareness about the wild animals, especially to conserve them.
"Starting in the morning, the guests are invited to prepare the food for the elephant. Next, the guests may wash the elephant with mud, sand, and rinse them off with water," he said.
For further information and reservation at The Sanctoo Villas and Spa Bali, you may contact us via email reservation@thesanctoovilla.com, or to (0361) 4711222 or visit our website in www.thesanctoovilla.com. (*)
Baca Berita Peristiwa dan Politik terbaru di Indonesia dan luar negeri lainnya hanya di TIMES Indonesia.